H.Hogarth Silver Silver Shop
Contact Details
Address:
44 Branthwaite Brow, Kendal, Cumbria, LA9 4TX
Phone:
01539 741404
Email:

[email protected]

Opening Hours
Monday to Saturday:
10am until 4pm
Sundays:
Closed
Bank Holidays:
Closed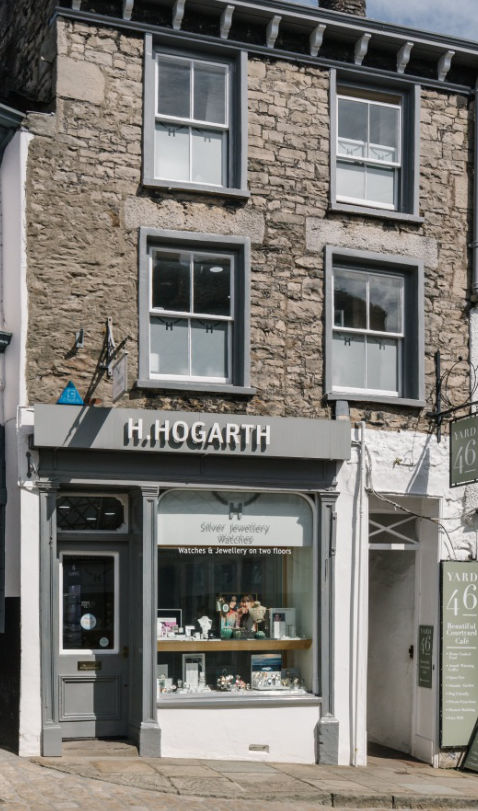 The Silver Shop front
Just over the brow from the Jewellers you can find our Silver Shop on two floors. Our Silver Shop stocks many leading jewellery and watch brands. Jewellery from Thomas Sabo, Hot Diamonds, Nomination, Daisy London, Emozoni, Diamonfire, Dower and Hall and many more.
Make your way up to the first floor to find more jewellery and watches by Bering, Skagen, Radley, Ted Baker, Storm and more.
The Silver Shop began life in 1988 primarily as a gift shop around the same time the Westmorland Shopping Centre was built. As the popularity of designer silver jewellery rose, the shop evolved into what it is now, stocking all the leading brands in silver jewellery and charms.
We don't sell all our silver jewellery online, however if there is an item of silver jewellery you would like please call the friendly team at the Silver Shop on 01539 741404. They will be able to advise and tell you if we have the item in stock. We can also post out any orders over £35 for free, by signed for delivery.
H Hogarth Silver Shop has a wide variety of designs which guarantees something for everyone. Our vast range ensures that there is something to suit every price range. From stocking fillers to a special birthday present we have a gorgeous piece of jewellery for every occasion.
Brands available in our silver shop -
Thomas Sabo
Hot Diamonds
Emozioni by Hot Diamonds
Nomination
Daisy
Endless
Sif Jakobs
Dower and Hall
Diamonfire
Elements silver
Purity
Fiorelli
Tianguis Jackson
D for Diamond
Kit Heath Kids
Kit Heath
Number 39
Bering
Skagen
Ted Baker
Casio
Storm
Radley
and even more...
Designer Watches
On the first floor of the silver shop you will find a great selection of designer watches with another collection of watches in our Jewellers.
Men's Jewellery
We also have a comprehensive selection of men's silver and stainless steel jewellery by Nomination, Fred Bennett, Duncan Walton and Jos Von Arx. We have a great range of Men's bracelets, chains, rings and cufflinks.
Children's Jewellery
We have a great selection of children's jewellery in our silver shop from children's brands D for Diamond and Kit Heath kids. These ranges include pendants, bracelets, earrings and bangles. Perfect for Christenings or little girls birthdays.